Space Girl [mix by poisontaster; story by darthjamtart]
Posted by
darthjamtart on 2012.06.19 at 09:49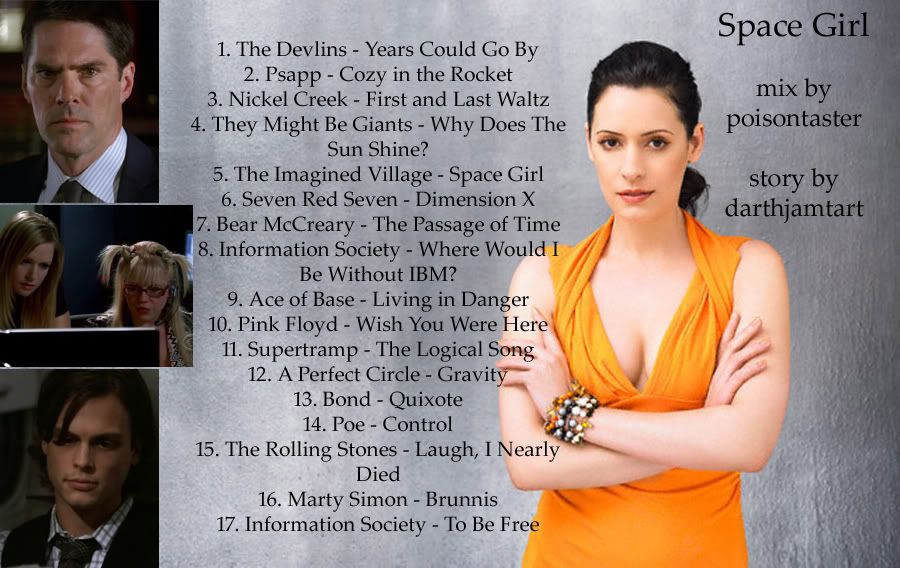 Title:
Space Girl
Mixer:
poisontaster
Fandom:
any, author chose Criminal Minds
Pairing:
gen, teamfic
Track Listing:
1. The Devlins - Years Could Go By
2. Psapp - Cozy in the Rocket
3. Nickel Creek - First and Last Waltz
4. They Might Be Giants - Why Does The Sun Shine?
5. The Imagined Village - Space Girl
6. Seven Red Seven - Dimension X
7. Bear McCreary - The Passage of Time
8. Information Society - Where Would I Be Without IBM?
9. Ace of Base - Living in Danger
10. Pink Floyd - Wish You Were Here
11. Supertramp - The Logical Song
12. A Perfect Circle - Gravity
13. Bond - Quixote
14. Poe - Control
15. The Rolling Stones - Laugh, I Nearly Died
16. Marty Simon - Brunnis
17. Information Society - To Be Free
Mix:
Space Girl
Story:
people are the same today as they used to be
, by
darthjamtart
, at AO3
Word Count:
~10k
Rating/Warnings:
PG-13. No darker than the show.
Summary:
Captain Aaron Hotchner and his crew investigate crime on America's space colonies. Or, Criminal Minds IN SPACE.
Notes:
When I claimed
poisontaster
's mix, I didn't know 1) how amazing it was or 2) how inspired I would be by it. Seriously, go listen to the mix; it's incredible.
poisontaster
and I overlap on several fandoms, but I listened to the first couple songs and immediately went "Criminal Minds IN SPACE!" and
poisontaster
, to her credit, did not respond with "are you insane?" Thank you so much,
poisontaster
, and I hope you enjoy reading the story as much as I enjoyed writing it.